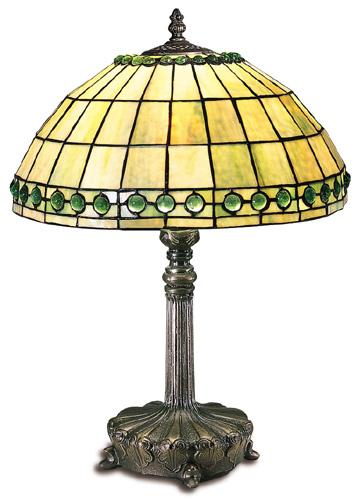 Nature's Radiance Stained Glass Lamp
by L.C. Tiffany
Item #683
Height - 19"
Shade - 14" width
Base - 6 1/2" width
(single socket with switch
for 60 watt bulb)
$230.00
Glassmasters' relationship with museums, curators and collectors opens vaults and homes to lamps that most of the world will never see. Our adaptation of Louis Comfort Tiffany's Nature's Radiance is a brilliant example. The soft green palette chosen to emulate nature in this lamp provided special challenges. You will notice each framed pattern of glass reflects many variations of the same hue of green. Artistically, this presents almost a paradox against the carefully designed geometric pattern. Note the impressive marble glass that is strategically placed to reflect sunlight on dew.
We charge a flat-rate for shipping, based on the price of an item. In many cases, you may receive a partial refund of the shipping charge, if the flat-rate is more than what the actual shipping will be. Contact us for details.