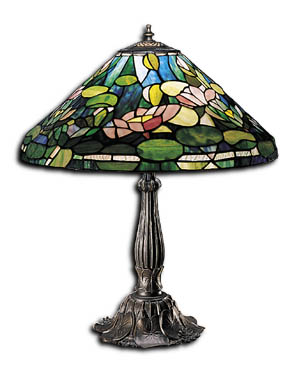 Monet Waterlilies Stained Glass Lamp
Item #667
Height - 24"
Shade - 20" width
Base - 9" width
(single socket for 100 watt
[max] bulb. Three way switch)
$390.00
"One instant, one aspect of nature contains it all," said Monet (French, 1840-1926), referring to his late masterpieces, the water landscapes, which he painted at his home in Giverny between 1897 and his death in 1926. This glorious lamp, with its varied palette of blues and mauves, has been inspired by Monet's Water Lilies series. The creation of this unique lamp was overseen by a master craftsman in Richmond, Virginia. Over five hundred different glass cuttings with varying textures are joined together with copper foil to emulate the radiance of nature as seen by Monet. The result is a rare and special lamp created for the Art Institute of Chicago in celebration of the 1995 exhibition, Claude Monet 1840-1926.
We charge a flat-rate for shipping, based on the price of an item. In many cases, you may receive a partial refund of the shipping charge, if the flat-rate is more than what the actual shipping will be. Contact us for details.