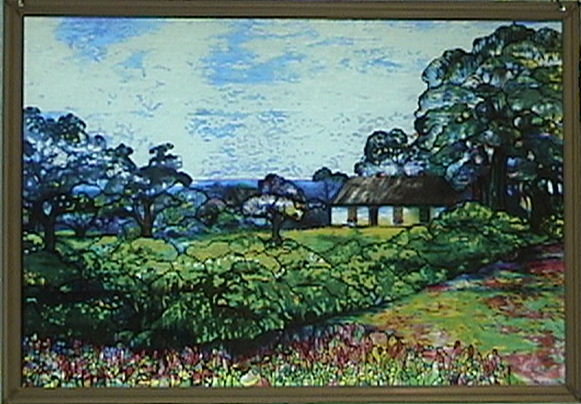 Enlarged to show detail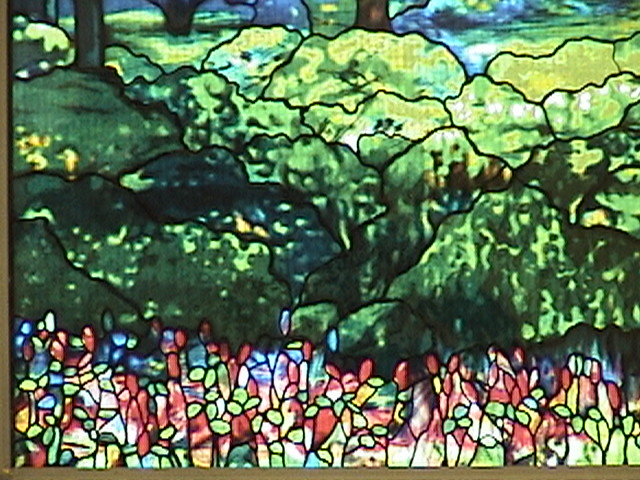 Enlarged to show detail
Return to Ireland Stained Glass Panel
by Louis Comfort Tiffany
from The Westmoreland Museum
of American Art
Item #9101
Dimensions: 14 3/8" x 10 1/8"
*acrylic stand or wooden easels
also included
$74.00
Greensburg, Pennsylvania resident Thomas Lynch commissioned Tiffany Studios in New York to create this window for his new house being built on West Pittsburg Street around 1905. The large copper-foiled and plated glass window depicts the birthplace of Lynch's father in Ballyduff, County Waterford, near Dungarvan, Ireland.
As general manager, Thomas Lynch ran Henry Clay Frick's Coke Company from 1891, managing all the company's coal and coke operations. Lynch made a lifelong effort to improve the safety and well being of the workers in the mines and is credited with having coined the phrase "Safety First."
Louis Comfort Tiffany (1848-1933) and Tiffany Studios' produced leaded glass windows from the 1880s into the 1920s. These masterfully crafted works of art were commissioned for churches, public buildings, and private residences throughout the world. According to experts, the scene depicted in the Lynch Tiffany Window was not the artist's usual method of working in that most of his subjects were more universal. A period photograph confirms that Louis Comfort Tiffany made a faithful rendering of the scene, including the simple cottage with its flowering window boxes. The surrounding landscape is more typical of Louis Comfort Tiffany and stylistically reminiscent of the Art Nouveau period. In this area, the artist incorporated his well-known glass making techniques of mottled, rippled, agate, and confetti glass. In order to achieve depth and the sense of perspective, Louis Comfort Tiffany used as many as five plating layers of colored glass, tinted in subtle gradations, to suggest the vista of distant mountains and sky. The glass has also been acid-etched in some areas to suggest the subdued light conditions of dusk, the time of day the artist was trying to capture.
We charge a flat-rate for shipping, based on the price of an item. In many cases, you may receive a partial refund of the shipping charge, if the flat-rate is more than what the actual shipping will be. Contact us for details.