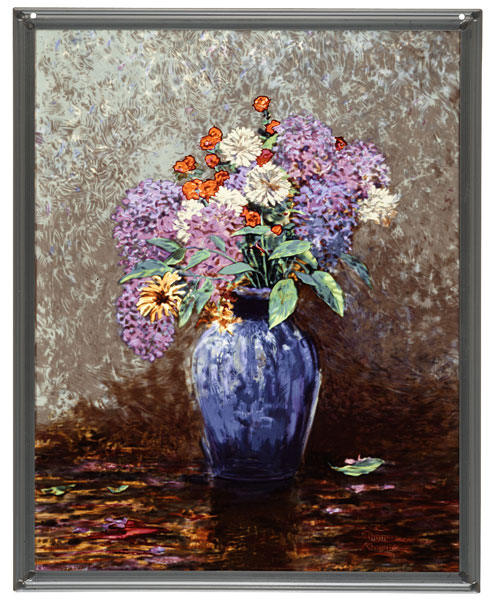 Lilac Bouquet Stained Glass Panel
by Thomas Kinkade
Item #729
Dimensions: 10 1/4" x 12 3/4"
$74.00
Thomas Kinkade has become one of America's most collected artists, bringing a message of peace and simplicity into modern homes with his light-infused paintings of breathtaking landscapes, charming cottages and colorful gardens. A still life by Kinkade is a rare treasure, allowing greater focus on the details of the blossoms themselves, individually delicate petals that cluster together in an explosion of color. Thomas Kinkade's challenge in Lilac Bouquet was to convey the sensual experience of the garden in the portrayal of this lavish bouquet. Delight at the delicate contrast of mauves and purples, sense the rich perfume of lilacs wafting on the breeze, image the buzz of bees hovering about the flowers.
Officially called Syringa vulgaris, the Purple Lilac was first imported from England and planted at the Portsmouth, New Hampshire home of Governor Benning Wentworth in 1750. It was voted the state flower of New Hampshire in 1919, symbolic of the hardy men and women of the state. Loved by gardeners for its resilience, the lilac's heady scent evokes the sweetness of springtime itself.
We charge a flat-rate for shipping, based on the price of an item. In many cases, you may receive a partial refund of the shipping charge, if the flat-rate is more than what the actual shipping will be. Contact us for details.