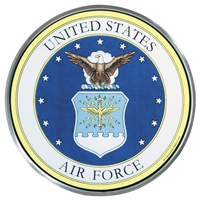 US Air Force Stained Glass Emblem
Item #0037
Dimensions: 6 1/2" Round
$27.00
On August. 1, 1907, the U. S. Army Signal Corps established a small Aeronautical Division to take "charge of all matters pertaining to military ballooning, air machines and all kindred subjects." The next several decades saw vast improvement in flight technology and the established the need for a branch of the military dedicated to air defense and combat. The National Security Act of 1947 created the Department of the Air Force.
The U. S. Air Force emblem, newly designed in 2000, retains the distinctive wings and star which honor Air Force hero Hap Arnold and the Army Corp heritage, respectively. The wings, called stripes of strength, honor the men and women of the Air Force; the sharp angles emphasizing swiftness and power. The sphere and star represent the modern challenges of vigilance around the globe and into space. Three diamonds signify the core values of integrity, service and excellence. The modernized design elements blend to form an eagle, a valiant symbol of America's greatness.
We charge a flat-rate for shipping, based on the price of an item. In many cases, you may receive a partial refund of the shipping charge, if the flat-rate is more than what the actual shipping will be. Contact us for details.