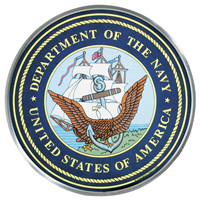 The original Continental Navy was established on October 13, 1775 when Congress required two armed crafts to search for ships supplying arms to the British Army. By the end of the Revolutionary War, the Naval fleet had grown to over fifty ships, and established itself as an integral part of American defense.
Several naval emblems represented this nautical branch of service, until Executive Order 10736 was signed by President Dwight D. Eisenhower on October 23, 1957 designating a single Navy emblem. The design was produced by a board of heraldic experts and historians, and displays a three-masted ship with a Luce-type anchor, an American bald eagle, clear skies and peaceful seas. The use of sky, land and water in the design symbolizes the Navys ability to support operations in the air and land, as well as a well-deserved reputation for dominance at sea.
We charge a flat-rate for shipping, based on the price of an item. In many cases, you may receive a partial refund of the shipping charge, if the flat-rate is more than what the actual shipping will be. Contact us for details.