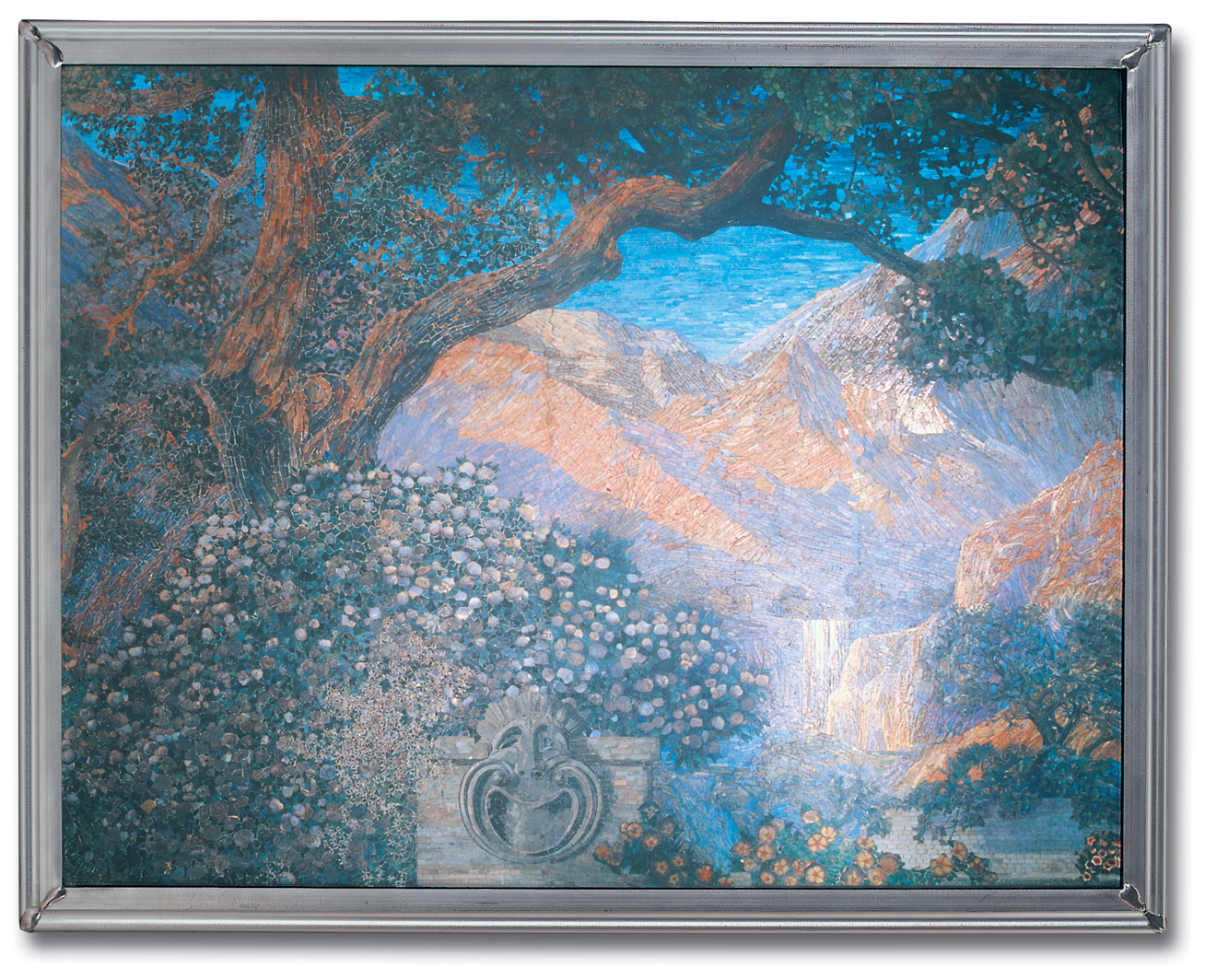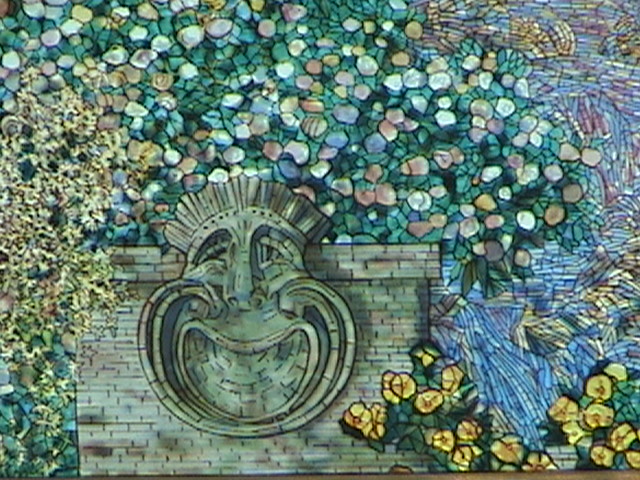 Image enlarged to show detail
Dream Garden Stained Glass Panel
by Maxfield Parrish & Louis Comfort Tiffany
from the Pennsylvania
Academy of Fine Arts
Item #9119
Dimensions: 11 7/8" x 9 3/8"
*Acrylic stand or wooden easels included
$58.00
For well over a hundred years, the Philadelphia-based Curtis Publishing Company has delighted Americans with such publications as The Saturday Evening Post and Ladies' Home Journal. Owner Cyrus Curtis dedicated himself to making fine art accessible to the public, from the Norman Rockwell illustrations in his magazines, to the millions spent on murals for his workplace.
Artist Maxfield Parrish (1870-1966) designed 18 spectacular murals for the companys dining room, but when approached about a mural for the buildings lobby, declined due to his full schedule. Edward Bok, publisher of Ladies' Home Journal, overcame this objection by conceiving a stained glass mosaic, designed by Parrish, but executed by L. C. Tiffany Studios. Confident in Louis Comfort Tiffanys abilities, Parrish submitted an oil painting of magnificent mountains, shimmering waterfalls and exquisite foliage.
Dream Garden was produced at L. C. Tiffany Studios in 1915, using over 100,000 pieces of glass, each hand-fired to achieve perfection in each of the 260 colors. Measuring 15 by 49 feet, the dramatic mural was touted by art critics as a veritable wonderpiece.
Philadelphians consider Dream Garden a significant facet of their citys rich legacy. Maxfield Parrish was a graduate and loyal alumnus of The Pennsylvania Academy of Fine Arts, and Dream Garden was designed especially for the neoclassical architecture of the Curtis Center, a Philadelphia landmark. With a generous grant from the Pew Charitable Trust, The Pennsylvania Academy of Fine Arts recently purchased Dream Garden to ensure that the mural remain in the Curtis Center lobby, where it will continue to be accessible to all people.
We charge a flat-rate for shipping, based on the price of an item. In many cases, you may receive a partial refund of the shipping charge, if the flat-rate is more than what the actual shipping will be. Contact us for details.