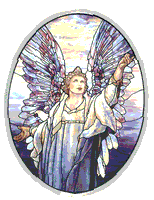 Angel of Peace Stained Glass Panel
by Louis Comfort Tiffany
Item #9113
Dimensions: 7 1/8" x 9 15/16" Oval
$38.50
Radiating peace and purity, Louis Comfort Tiffanys Angel of Peace is an extraordinary expression of beauty and aspiration. The angels magnificent wings combine varying shades of blue and purple, using light and color to create a reverent vision of inspiration.
Louis Comfort Tiffanys Angel of Peace is reproduced from the Downtown United Presbyterian Church in Rochester, NY. The original Brick Church was designed by Andrew Jackson Warner in 1860, but in 1903, fire from a neighboring lantern factory almost destroyed the building. J. Foster Warner, son of the original architect, was hired to rebuild the church, and commissioned Louis Tiffany to design this inspirational stained glass window that enhances the Romanesque style of the building.
The reproduction of Louis Comfort Tiffanys Angel of Peace is a technical and artistic triumph for the craftsmen at Glassmasters. Each color is carefully chosen and applied, in order to faithfully reproduce the gentle hues and striations of the original.
We charge a flat-rate for shipping, based on the price of an item. In many cases, you may receive a partial refund of the shipping charge, if the flat-rate is more than what the actual shipping will be. Contact us for details.