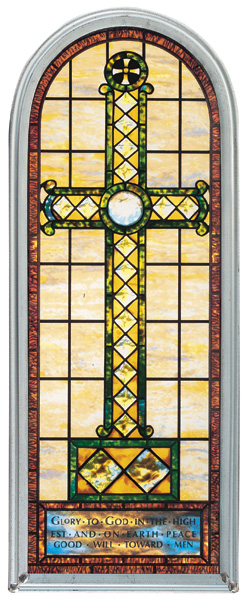 Cross of Jewels Stained Glass Panel
by Louis Comfort Tiffany
Item #9111
Dimensions: 13 7/8" x 5"
*Acrylic stand or wooden easels included
$63.00
The original of The Cross of Jewels is one of fifteen Louis Comfort Tiffany windows featured in Blandford Church in Petersburg, Virginia. This is the only window in the church with an ornamental design. Its title may have a religious connotation, but the term "jewel" is also a technical term for certain types of projecting ornamental glass formations that yield a sparking, jewel-like effect.
The Cross of Jewels was a gift to the church from Louis Comfort Tiffany. Blandford Church is one of six churches in the United States in which every window is designed and made by L.C. Tiffany Studios.
We charge a flat-rate for shipping, based on the price of an item. In many cases, you may receive a partial refund of the shipping charge, if the flat-rate is more than what the actual shipping will be. Contact us for details.