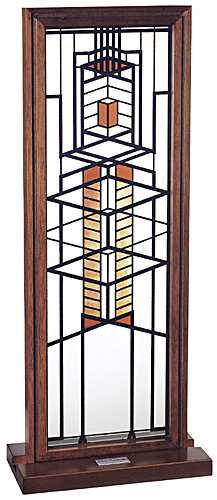 Prairie Stained Glass Panel
by Frank Lloyd Wright
from the Frederick C. Robie House
Chicago, IL
Item #9001
Dimensions: 18" x 6 1/2"
Framed in wood
$66.00
Built in Chicago, Illinois, from 1908-1910, the Robie House represents the culmination of Frank Lloyd Wright's Prairie style with its sweeping horizontal planes, dramatic cantilevers and long bands of art glass windows. Wright's art glass designs were important components of each building, integral to the whole, and served to reinforce his aesthetic and architechtural objectives.
The Prairie was one of the four pieces which comprised the official gift presented by Hillary Clinton to Madam Lao An in April 1999.
We charge a flat-rate for shipping, based on the price of an item. In many cases, you may receive a partial refund of the shipping charge, if the flat-rate is more than what the actual shipping will be. Contact us for details.