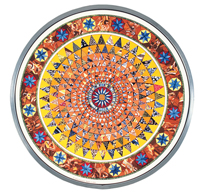 Mosaic Tabletop Stained Glass Panel
from the Corning Museum of Glass
Item #8167
Dimensions: 8 1/2" Round
$43.00
The art of mosaic was developed in the Roman Empire during the 1st century A.D. at a time when diverse cultural influences contributed to the birth of an artistically innovative community. Ornate mosaics gained popularity during the 11th and 12th centuries as an expression of religious devotion. The elaborate patterns of this era can still be seen today in the churches of Greece and Italy.
After a period of decline, mosaics were rediscovered by the Art Nouveau enthusiasts of the 19th century, who countered the rise of Industrialism with a return to the classical arts. This mosaic tabletop is believed to have been designed by Francesco Sibilio between 1824 and 1830. It is constructed of white marble, inlaid with Hellenistic and Roman monochrome glass.
The stained glass reproduction of the Mosaic Tabletop adds light to the original design, animating the tessellation of colors and intricasies of design in a unique tribute to an elegant classical art form.
We charge a flat-rate for shipping, based on the price of an item. In many cases, you may receive a partial refund of the shipping charge, if the flat-rate is more than what the actual shipping will be. Contact us for details.