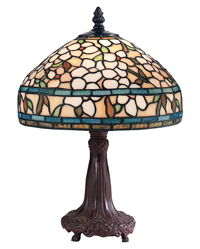 Magnolia Stained Glass Lamp
by L.C. Tiffany
Item #700
Height - 13"
Shade - 10" width
Base - 4 1/2" width
(single socket for 100 watt [max] bulb, three-way switch)
$150.00
Magnolias are the oldest flowering plants of the world and lived during the time of the dinosaurs. The fossils of these magnificent trees have been found throughout Europe, North America, and Asia, in rocks over 100 million years old.
Virginian colonists in the mid-1600s named the Magnolia to commemorate the famous French botanist, Pierre Magnol, unaware of the trees popularity in the Orient. The Japanese believe that the Magnolia flower represents sublime spirit and purity, and the tree itself bears a strong life power that allows it to endure heavy winter winds, and produce blossoms in the early spring. Today, the Magnolia is the state tree of Louisiana and Mississippi.
We charge a flat-rate for shipping, based on the price of an item. In many cases, you may receive a partial refund of the shipping charge, if the flat-rate is more than what the actual shipping will be. Contact us for details.