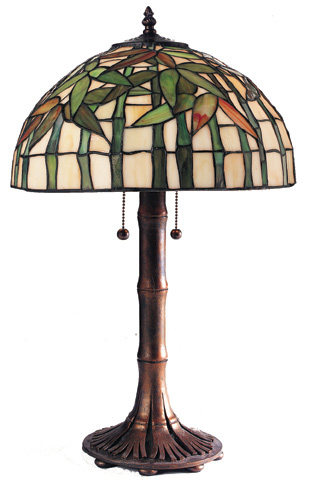 Bamboo Stained Glass Lamp
by L.C. Tiffany
Item #699
Height - 21"
Shade - 14" width
Base - 6 3/4" width
(single socket for 100 watt [max] bulb, three-way switch)
$250.00
Louis Comfort Tiffany found inspiration in the splendor of nature, frequently choosing plants to express his spiritual appreciation of the world and all its creations. The repeating patterns, extraordinary legends and delicate play of light on leaves and petals fascinated the master artist, who aspired to capture the wonder of nature in stained glass, and to illuminate wildlife from within.
In the orient, bamboo is respected for its endurance and its sturdy root system, making it a symbol of prosperity. Simple and pure, the bamboo also represents innocence and is used to ward off evil spirits.
We charge a flat-rate for shipping, based on the price of an item. In many cases, you may receive a partial refund of the shipping charge, if the flat-rate is more than what the actual shipping will be. Contact us for details.