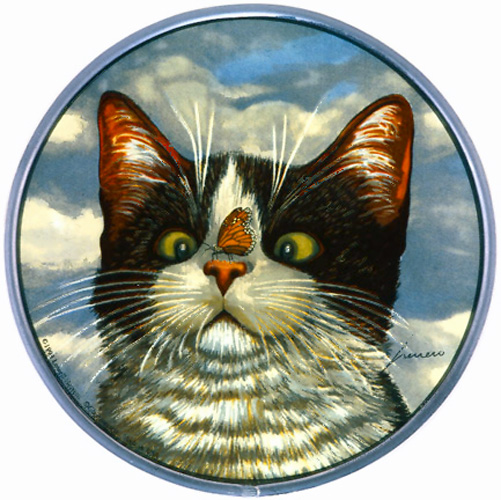 Hugo Hege Stained Glass Panel
by Lowell Herrero
Item #336
Dimensions: 6 1/2" Round
$28.50
This frisky feline has gone cross-eyed following the tricky little butterfly that has landed on his nose. From his chubby cheeks to his many chins, Hugo Hege has a capricious expression and captivating personality all his own.
American folk-artist, Lowell Herrero, is a favorite of animal-lovers the world over. A California native, his work has been commissioned by companies such as Shell Oil (their annual calendar) and The Franklin Mint. He has been featured in several one-man shows and art galleries nationwide.
We charge a flat-rate for shipping, based on the price of an item. In many cases, you may receive a partial refund of the shipping charge, if the flat-rate is more than what the actual shipping will be. Contact us for details.