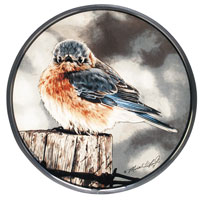 The Mad Bluebird's Mate Stained Glass Panel
by Michael L Smith
Item #281
Dimensions: 6 1/2" Round
$28.50
In the photographic community, the "shot heard round the world" is generally agreed to be Michael Smith's lucky click of the camera, capturing a puffed-up, ticked-off, thoroughly annoyed Mad Bluebird that captured the hearts of thousands and appeared on the cover of National Geographic Magazine.
Every bluebird, angry or not, deserves a mate. The subtle coloring and disdainful haughtiness of the Mad Bluebird Companion makes her the perfect complement to the Mad Bluebird. This wifely bluebird radiates feminine serenity. Though puffed-up like her mate, she seems almost bemused at his temper, and confident of her own abilities to remedy the situation.
We charge a flat-rate for shipping, based on the price of an item. In many cases, you may receive a partial refund of the shipping charge, if the flat-rate is more than what the actual shipping will be. Contact us for details.