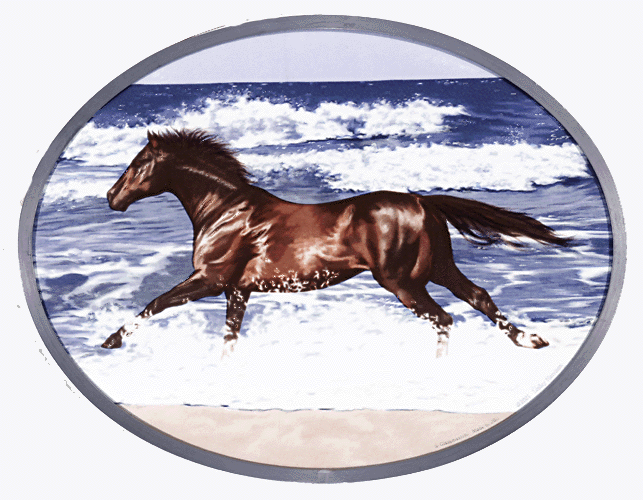 Beauty Unadorned Stained Glass Panel
by Leslie Harrison
Item #338
Dimensions: 9 1/2"x 7 3/8" Oval
$37.00
The graceful power of this free-running horse is complemented by the magnificent force of the ocean, combining natural elements into a tableau suggesting the energy of the universe. The careful attention to detail is apparent in the rippling, shining muscles of the noble beast, as he runs through the surf of an untamed sea.
Lesley Harrison's award-winning equine paintings have been published in numerous horse magazines and books, selected for foreign postage stamps, and reproduced onto greeting cards, plates, calendars and more. Her love affair with horses began at age 11, and continues today through her realistic and emotional portrayals. Using the age-old medium of pastels, her creative spirit and technical virtuosity have made her work a favorite of animal-lovers throughout the world.
We charge a flat-rate for shipping, based on the price of an item. In many cases, you may receive a partial refund of the shipping charge, if the flat-rate is more than what the actual shipping will be. Contact us for details.