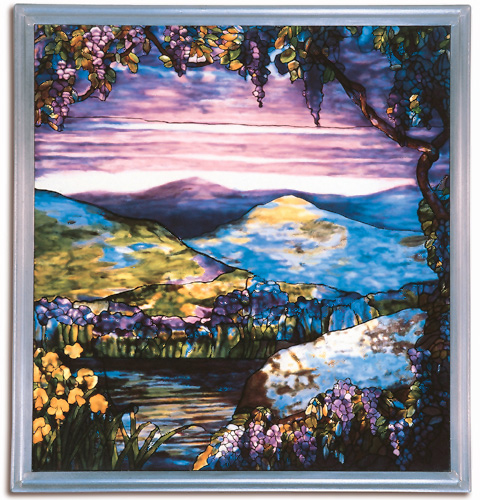 Majestic Dawn Stained Glass Panel
by L.C. Tiffany
from Pilgrim Congregational
Church, Duluth, MN
Item #9041
Dimensions: 13 1/8" x 12 3/8"
*acrylic stand or wooden easels
also included
$75.00
This peaceful Louis Comfort Tiffany landscape has been reproduced from an original window in the Pilgrim Congregational Church (United Church of Christ) in Duluth, MN. One of 5 paired Tiffany Studio's windows in the sanctuary, it was commissioned as a memorial to Charles Duncan and William G. Hegardt following the church's 50th anniversary in 1921.
Throughout his career, Louis Comfort Tiffany was hired to create windows with biblical themes for churches of every denomination. He struggled to convince the ecclesiastical community to include landscapes in their sanctuaries, asserting that his resplendent vistas were an homage to the natural wonders which God created.
We charge a flat-rate for shipping, based on the price of an item. In many cases, you may receive a partial refund of the shipping charge, if the flat-rate is more than what the actual shipping will be. Contact us for details.