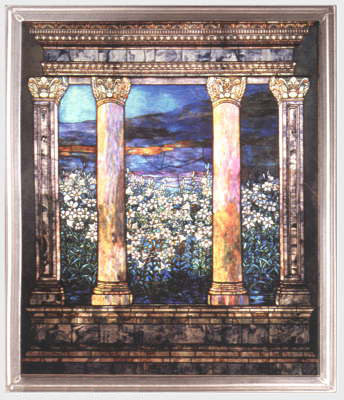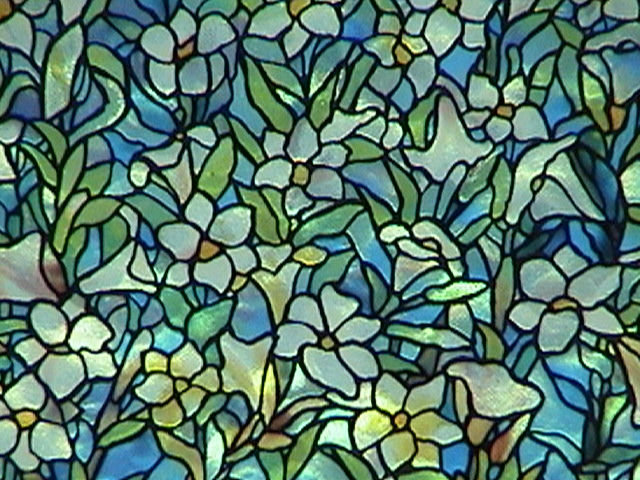 Image enlarged to show detail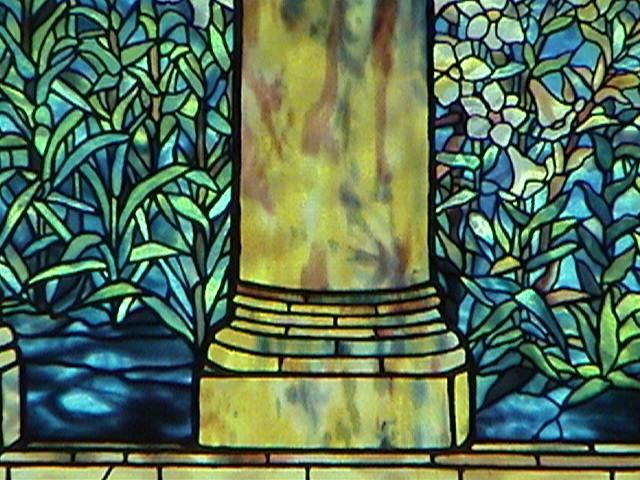 Image enlarged to show detail
Field of Lilies Stained Glass Panel
by Louis Comfort Tiffany
from The Charles Hosmer Morse
Museum of American Art
Item #9102
Dimensions: 11 1/8 x 13"
*acrylic stand or wooden easels
also included
Identified as Resurrection Angel by Tiffany's Glass and Decorating inventory of the Chicago Exposition chapel, this window has appeared in every version of Louis Comfort Tiffany's 1893 chapel interior, albeit in changed appearance. In Chicago, the window with a center angel, wings outstretched, was placed behind the baptismal font, as it was when installed in New York's Cathedral of St. John The Divine in 1896, then under construction. After Louis Comfort Tiffany removed the chapel window from the Cathedral's crypt, where it had languished and suffered water damage for five years, he reinstalled the Resurrection Angel window at Laurelton Hall. The Angel had been replaced, however, by additional columns and lilies, hence the Morse Museum's title for this window. It is unknown whether the Angel was damaged in the removal process, or whether it was incorporated into another window for another commission.
We charge a flat-rate for shipping, based on the price of an item. In many cases, you may receive a partial refund of the shipping charge, if the flat-rate is more than what the actual shipping will be. Contact us for details.