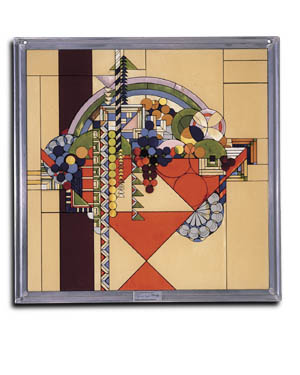 May Basket Stained Glass Panel
by Frank Lloyd Wright
Item #9055
Dimensions: 12 1/8" x 12 1/8"
*Acrylic stand or wooden easels included
$74.00
In the winter of 1926-27, Liberty magazine commissioned Frank Lloyd Wright to design a series of cover designs, one for each month of the year. These drawings, the pinnacle of his imaginative graphic designs, were rejected: deemed too "radical" by the publisher.
For the month of May, Wright created a stylized version of a May Basket. The complex cluster of geometric shapes represented fruits, flowers, and streamers of ribbon for the celebration of the spring.
We charge a flat-rate for shipping, based on the price of an item. In many cases, you may receive a partial refund of the shipping charge, if the flat-rate is more than what the actual shipping will be. Contact us for details.