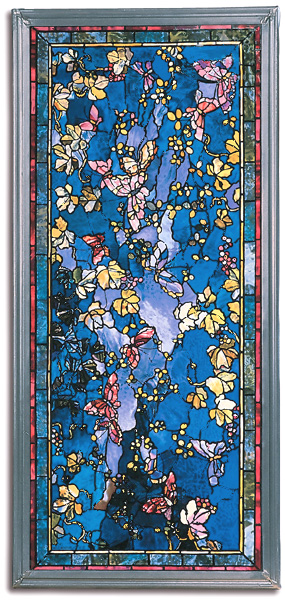 Butterflies & Foliage Stained Glass Panel
by John LaFarge
from the Museum of Fine Arts,
Boston, MA
Item #9005
Dimensions: 8 3/8" x 18 1/8"
*Acrylic stand or wooden easels included
$88.50
John LaFarge (American, 1835-1910) was perhaps the greatest innovator in the history of modern stained glass. His most significant breakthrough was the discovery of opalescent glass. He developed the technique of fusing small bits of glass without leading to create images that previously could only be painted. This process was quickly adapted by such luminaries as Louis Comfort Tiffany.
This Butterflies and Foliage Stained Glass is an exquisite scaled-down reproduction of a window created in 1889 by LaFarge for the William H. White House, Brooklyn. The window is now housed in the Boston Museum's American Decorative Arts Collection.
We charge a flat-rate for shipping, based on the price of an item. In many cases, you may receive a partial refund of the shipping charge, if the flat-rate is more than what the actual shipping will be. Contact us for details.