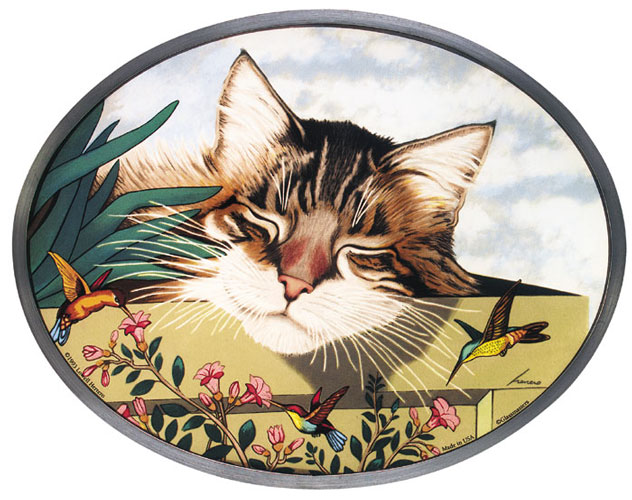 Rocky Selland Stained Glass Panel
by Lowell Herrero
Item #342
Dimesions: 9 5/16" x 7 1/8" Oval
$38.50
Capturing humorous and whimsical moments on canvas has propelled Lowell Herrero into the limelight of corporate America and into the hearts of millions. His distinctive paintings have been reproduced on calendars, cards, posters, bags, stationery, plates and even sculptured eggs. Herrero has a inimitable style of portraying romantic samplings of Americana, with a special interest in cows, cats and unusual characters.
Rocky Selland earned his name as a tough tomcat, a real bruiser. However, this mighty example of masculine muscle slumbers peacefully, completely unaware of the tasty morsels fluttering within his grasp. The delicate hummingbirds flit and feed just inches from Rocky's mouth, bringing vivid colors and artistic contrast into this scene of provisional serenity.
We charge a flat-rate for shipping, based on the price of an item. In many cases, you may receive a partial refund of the shipping charge, if the flat-rate is more than what the actual shipping will be. Contact us for details.