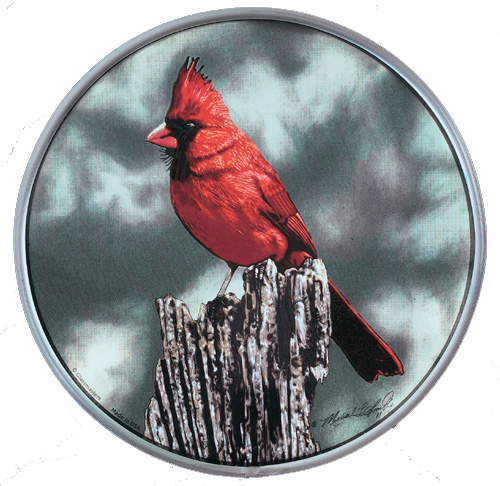 The Regal Cardinal Stained Glass Panel
by Michael L. Smith
Item #282
Dimensions: 6 1/2" Round
$28.50
Michael L. Smith is an American dream come true. His success with "The Mad Bluebird" enabled him to quit his job as an electrician and trade in his townhouse for a luxuriously large dream home.
But Smith's success is well-deserved. For 35 years, Smith has been capturing the intelligence and gracefulness of America's feathered friends, combining an artistic eye with an acute understanding of the natural world. His work has been published in several magazines and books, such as National Geographic and the National Wildlife Federation.
The Regal Cardinal parades his magnificent plumage with pride and carries himself with dignity. When trying to catch a mate, he will puff up his chest like an opera singer and bellow his song at full volume, while gently swaying from side to side. Seen from Illinois to Florida, the Cardinal is the state bird of seven states.
We charge a flat-rate for shipping, based on the price of an item. In many cases, you may receive a partial refund of the shipping charge, if the flat-rate is more than what the actual shipping will be. Contact us for details.