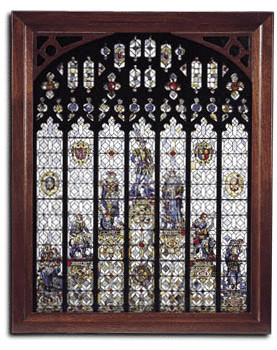 The Seven Ages of Man Stained Glass Panel
by Nicola d'Ascenzo
From the Folger Shakespeare Library
Item #9084
Dimensions: 16" x 20"
Framed in Walnut
*acrylic stand or wooden easels
also included
Was $291.00, now only $279.00!
The Folger Library, near the nation's Capitol, supports numerous academic programs, publications, exhibitions, theatrical productions, lecture series, poetry readings and musical programs. The Library is dedicated to scholarship. In the Reading Room, a stained glass window by Nicola d'Ascenzo depicts The Seven Ages of Man speech from Shakespeare's play, As You Like It.
This special tableau is mounted in a handcrafted walnut frame inspired by the original window of the Folger Library.
We charge a flat-rate for shipping, based on the price of an item. In many cases, you may receive a partial refund of the shipping charge, if the flat-rate is more than what the actual shipping will be. Contact us for details.